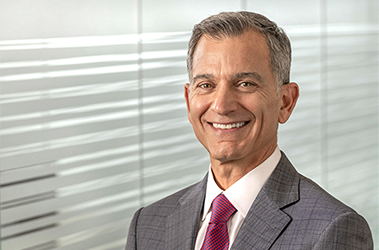 Christopher Del Vecchio
President and CEO
As a leader, Chris challenges everyone around him—and throughout our organization—to be the next wave of positive change in health care, rather than simply riding out the industry's turbulence. As a health care executive, he champions the deceptively simple idea that doing what is right by our members—what makes their lives easier and better—is the true measure of MVP Health Care's success.
Since joining MVP Health Care in 2014 as Executive Vice President of Strategy and Innovation, Chris has played an integral role in shaping and executing the vision, goals, and development of our organization. As a catalyst for innovation and systemic change, Chris was quickly promoted to Chief Operating Officer, then President, and now President and Chief Executive Officer.
Chris was raised in a household grounded by a strong work ethic and a "pay it forward" ethos, and knew from an early age that he wanted to use his abilities to help people. He became a pharmacist so he could do just that, later pursuing an MBA in health systems when he realized he might be able to positively impact thousands of lives at once instead of filling one prescription at a time. A visionary strategist to his core, Chris had a successful career as an entrepreneur and consultant in health care and technology prior to joining MVP.
As a Schenectady native, joining MVP was a homecoming of sorts, and an opportunity to empower real change and a better quality of life for those in his own backyard. He believes that everyone deserves a better health insurance experience, regardless of age, income, or health status—and works every day to make sure MVP is delivering that more helpful, more personal experience.
Meet Our Leaders
Learn more about the dedicated team of professionals that make up MVP's Executive Management team.