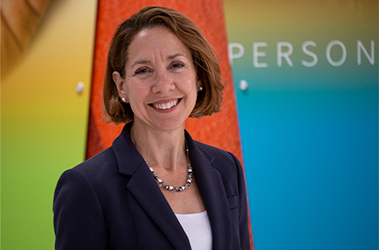 Emily Titsworth
Chief Legal Officer and General Counsel
Emily Titsworth, Chief Legal Officer and General Counsel, is an experienced attorney who embodies MVP Health Care's values to be the difference for the customer, be curious, and be humble. She's been practicing health care law for more than 25 years—but first became inspired to go to law school while working for a not-for-profit organization supporting European-American relations in Washington, D.C. This opportunity afforded her important experience in a mission-driven organization reliant on well-honed diplomatic skills.
In 1995, Emily joined a widely respected health care practice in Chicago, Illinois where she served health care providers across the country with regulatory matters and corporate transactions. That experience paved the way for her success at MVP.
Drawn to her hometown of Schenectady, New York, Emily joined MVP in 2006 where she is committed to effective advocacy and oversight in support of MVP's mission working on behalf of MVP's customers, partners, and the communities we serve.
Meet Our Leaders
Learn more about the dedicated team of professionals that make up MVP's Executive Management team.